The Lagos Command of the Nigerian Police has disclosed that 246 persons were murdered, 542 vehicles stolen and 486 armed robbery suspects arrested in Lagos between December 2015 and November 2016.
*Also 162 rape cases, 542 stolen vehicles reported; 486 robbery suspects arrested
By Olasunkanmi Akoni and Monsur Olowoopejo
The Lagos Command of the Nigerian Police has disclosed that 246 persons were murdered, 542 vehicles stolen and 486 armed robbery suspects arrested in Lagos between December 2015 and November 2016.
Also, 162 rape/defilement cases and 51 kidnapped cases recorded while 179 crime cases were prevented due to swift response of the security operatives in Lagos within the year under review.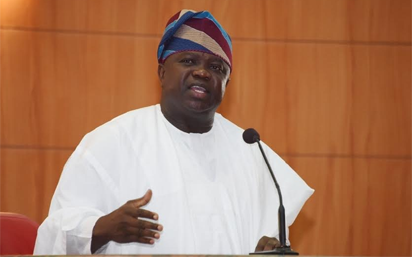 Meanwhile, worried by the increase in crime cases, Governor Akinwunmi Ambode of Lagos State, has assured residents that his administration would intensify efforts to ensure improvement in security of lives and property in the state.
This year's statistics, Vanguard gathered, was higher than the previous year when the state recorded 220 murder cases, 44 armed robbery and 25 kidnap cases with 233 stolen vehicle and items worth N1.4 billion recovered.
The state Commissioner for Police, Fatai Owoseni, who reeled out the statistics yesterday at the10th Town Hall Meeting on Security with the Governor, themed: 'Optimizing security funding in a recession' held in Lagos. The commissioner disclosed the 246 murder cases recorded happened during cultist clashes, gangsterism, youth restiveness and street fights, which ranked highest in the state. According to him; "The menace is most prevalent in areas within Ijede, Morogbo and Surulere Police Area Commands respectively.
''This cut across the three senatorial districts of the state. Clashes are mainly for supremacy as well as claim to territories for the purpose of collecting illegal levies from business owners and motorists.
"The gangsters are sometimes employed to settle scores of various types and use as foot soldiers by some very important personalities in the society.
''Identified groups include 'Aye,' 'Eiye,' 'Awawa Boys,' and 'One Million Boys'. Two groups-'Owonikoko and Happiness' are made of members with ages between 10 and 14 years," he added.
He further disclosed that 542 different makes of motor vehicles were reportedly stolen, saying that 65 percent of the vehicles were either removed from where they were parked or driven away by thieves who disguise as drivers and employed by unsuspecting individuals. According to him, 486 armed robbery suspects were arrested while 46 of them were killed during confrontation with the police, adding that 38 suspected kidnappers were arrested and 181 other suspects were arrested in connection with cultism and street fights.
Owoseni said within the year under review, 355 distressed robbery calls were received. Of these 85 calls were false, while 179 were prevented due to swift response, just as 91 robbery cases could not be prevented from happening.
"Areas within Ogba Area Police Command accounted for the highest number. Fifty-one cases of kidnappings were recorded, with Ijede Police Area Command accounting for the highest number of 47%. ''They may not be unconnected with the physical and cultural environment of the area. Most of the communities affected can be easily accessed through the many hidden water/streams and they also have oil pipeline run through them," he explained.
Furthermore, Owoseni said that 213 different firearms were recovered with 2,901 rounds of ammunition and cartridges of different calibres, while 293 motors were recovered, adding that 180 cases of domestic and sexual violence were reported to the police in the last one year.
On why the crime rate increased, Owoseni stressed that the physical and cultural environment of the state remain a major elements, which influenced the nature and pattern of crimes recorded in the state within the last one year.
He added that the upsurge in human and vehicular movement into the state has often placed Lagos in a vulnerable state, saying; "Criminals take advantage of the waterways, difficult swampy terrain serves as protective cover for the criminals to perpetrate their nefarious activities."
Ambode assures of adequate security
Governor Akinwunmi Ambode, who was represented by his deputy, Dr. Idiat Adebule, noted that the quest for improved security forced the state government to establish the fund 10 years ago.
The governor stressed that improved security would boost the state's economy because wherever there is security, residents would do business with ease.
Manko faults police force proliferation
Considering the issue of proliferation of security agencies, Assistant Inspector General of Police, AIG, Umaru Manko (retd), has faulted the establishment of Peace Corps and other security agencies in the country.
Manko argued that the proliferation of several security agencies has crippled the effectiveness of the traditional security agencies in the country.
He stressed that if the Federal Government intended to establish more security agencies, it should institute a firm structure that could help provide resources for the security apparatus in the country without waiting for the budget in the allocation.
---
Tanwa Ashiru is a U.S Airforce veteran, and the CEO of Bulwark Intelligence Solutions. She holds an M.A in Intelligence Studies from American Military University (AMU) and is a Fellow of the Association of Enterprise Risk Management Professionals (AERMP).
Tanwa has provided services for various public and private sector organizations including: NATO, Nigerian DIA, U.S Army Africa Forces (USARAF), Total E&P, IBM Nigeria, U.S Embassy Abuja and many more.
She has featured in several international media publications including: BBC World, Arise News, CNBC Africa, The Guardian Nigeria, Channels Television, Financial Times, and many more.
All author posts