When the "greatest democ racy on earth" appears to hesitate in a choice between a demagogue and a competent woman, one knows that signs of a bigger problem have long been ignored.
The post Why Niger Delta needs new leaders and why the world can't afford Hillary Clinton to lose appeared first on Vanguard News.
By Tabia Princewill
When the "greatest democ racy on earth" appears to hesitate in a choice between a demagogue and a competent woman, one knows that signs of a bigger problem have long been ignored.
A few months ago, I wrote an article about the danger individuals like Donald Trump pose and compared him to a Nigerian politician (we in Nigeria have a long history of electing and supporting populist charlatans).
The US Presidential election is upon us, and with everything happening in the Niger Delta, including a meeting between its would-be leaders and representatives and President Muhammadu Buhari, I think another parallel imposes itself.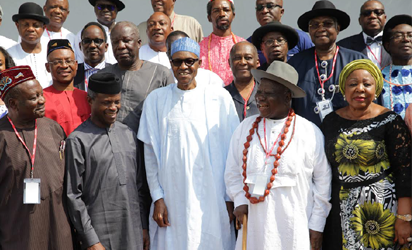 If Clinton loses (and therefore Trump wins), the world is in danger of succumbing to the xenophobia and destructive mind-set inherent to demagogues, individuals who sensationalise, inflame, bully and turn people against each other.
We Nigerians have many Trumps and demagogues running around, making irresponsible, divisive statements while they ignore the real issues and turn people against one another. America, like the Niger Delta, cannot afford to be controlled by individuals who do not have a track record of acting in the interest of the man on the street.
Positive  actions
Moreover, the world cannot afford to follow leaders who make empty promises to their people, with no detailed plans to enact or realise said promises, while enabling people to blame others for a country or region's failures.
Demagogues are dangerous because they don't tell people simple truths: that hard work, personal morals, ethics and positive actions determine success, rather than blowing up pipelines or in the American case, blaming "Jews, Blacks and Muslims" for white America's own self-destructive actions (I'll ask anyone interested in a more detailed analysis to see my article on Trump online).
What has been done, since 1999, with the 13% derivation paid to the states of the Niger Delta? Why does the region remain so poor despite a ministry created specifically to redress the wrongs done to it, if not for corruption orchestrated by the same individuals who now claim to speak for Niger Deltans?
What has the Amnesty Programme done beside benefit and enrich a handful of people while entire communities remain poor and underdeveloped? Demagogues, politicians who use sentiment to enslave the people, are powerful in the Niger Delta and the South-East.
They feast on the alienation the common man feels to make him resent Abuja and supposed Hausa-Fulani interests, while robbing him blind. In truth, many Niger-Deltan politicians, leaders from around Nigeria, irrespective of religion and ethnicity, have often allied to rape this country.
A number of politicians in the South-South and South-East achieved prominence or notoriety by allying with the military—the same would-be Northern "hegemonic" interests they criticise.
Corruption has no gender, religion or ethnic group, forget what the demagogues and selfish politicians tell you. The political class came together in Nigeria to steal from the common man in an organised manner, by dividing us all and telling us to hate and fear each other, which is why xenophobic insults and violence are so common in Nigeria—does America wish to follow the same path?
Brexit, I said in a previous article, is in part, the consequence of a fear of an open, interconnected world. A fear of migrants, immigrants, the "other" in short.
An attempt by leaders to trick their constituents, (like the agitation for Biafra), and excuse failings to develop or empower forgotten segments of a population. It's so easy for demagogues to blame everyone but themselves and to encourage overt racist, ethno-religious hatred to mask policy failings (real, coherent policies are often inexistent in our part of the world).
It can only be demagoguery, the most basic populist misrepresentation, to try to tell Niger-Deltans that the issue with the Niger-Delta ministry is funding. Where have the billions budgeted and spent so far, gone? What do the leaders who met with Buhari really want? Why come to the Presidential meeting asking for oil blocks and aggrandisement, when the region could really use leadership, and truly deserves actual, meaningful change?
Will a change in oil-block ownership benefit the ordinary man in Rivers or Bayelsa? The answer is no. That alone shows a definite lack of sincerity from many of the same old faces who've been part of the region's  issues.
Cultural  imperative
The US, like the Niger Delta, needs to be careful of those who claim to bring them succour from the would-be "oppression" of powerful, elite forces.
Demagoguery sadly flourishes when voters have neither the will to be truthful (with themselves first and foremost) nor the cultural imperative to ignore petty, immediate gains and corruption. Nobody seems to be telling the white nationalists who vote Trump, or the Niger-Deltans obsessively opposing Buhari simply because of his ethnicity or religion, that the real answer to their problems is to hold themselves, and in the Niger-Deltan case, their leaders to account.
A situation where one waits for amnesty or kidnaps, as a means of making quick money, or on the other hand, in some Southern (American) counties where one doesn't get an education but expects to compete in the global marketplace, isn't sustainable. The real reason demagogues, corrupt leaders etc. prosper is because of us, the people who would rather seek comfort in their lies than face reality.
Senate and elections spending
Reportedly, members of the Senate are complaining about their inability to recoup their "investment"—having "paid" their way into office (who can forget the lawmaker who told her constituents not to bother her with requests seeing as she had bought their votes).
These complaints in themselves are admissions of guilt and corruption: can anyone imagine a US or UK lawmaker complaining that they are not finding it  easy to make money from their position? In other climes, people go into politics to serve their people, not to engage in corrupt practices which benefit only them.
Senators even allegedly complain about how expensive it is to win elections, not realising that if they campaigned based on issues and convinced Nigerians to vote for them based on merit rather than paying them or agents at polling booths, bags of rice etc. elections would be much cheaper. We don't have a culture of political engagement with volunteers who believe in a cause, who can donate their time and energy in support of said cause.
This is simply because politicians don't give Nigerians any reason to feel inspired or to believe in them.Senators are rumoured to dislike the Treasury Single Account, TSA, policy which doesn't allow much of the shenanigans ministries and the legislature previously enacted. Raising the amounts stipulated by the electoral act for spending on elections will not solve the Senators' dilemma. It'll encourage corruption and definitely beam a spotlight on their finances. The time to do things differently in Nigeria is finally upon us.
Bola Shagaya
One of her bank accounts was reportedly frozen due to transactions between her accounts and Patience Jonathan's. Allegedly, her business benefited from her proximity to the former First Lady whose account she is accused of paying kickbacks to.
Can one imagine Michelle Obama and any of her friends or associates being accused of such? Americans would definitely not protect either woman on grounds of ethnicity or religion. They know too well that money taken from the public purse is money taken away from the real needs of the people.
The Gambia
It's the third African nation to decide to formally withdraw its membership from the UN backed International Criminal Court, ICC. The Gambia's Information minister said the ICC stood for "International Caucasian Court" and that "the court focused on the persecution and humiliation of people of colour, especially Africans".
Whose fault is it that mainly people from the developing world blatantly commit crimes against humanity? The Western world has enshrined human rights in its various Constitutions and respects its citizens. African leaders still want to commit crimes with impunity.
The post Why Niger Delta needs new leaders and why the world can't afford Hillary Clinton to lose appeared first on Vanguard News.
---
Tanwa Ashiru is a U.S Airforce veteran, and the CEO of Bulwark Intelligence Solutions. She holds an M.A in Intelligence Studies from American Military University (AMU) and is a Fellow of the Association of Enterprise Risk Management Professionals (AERMP).
Tanwa has provided services for various public and private sector organizations including: NATO, Nigerian DIA, U.S Army Africa Forces (USARAF), Total E&P, IBM Nigeria, U.S Embassy Abuja and many more.
She has featured in several international media publications including: BBC World, Arise News, CNBC Africa, The Guardian Nigeria, Channels Television, Financial Times, and many more.
All author posts